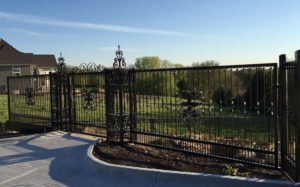 America's Gate Company builds over one thousand slide gates and over four thousand swing gates each year. Each and every gate is fabricated to our customers' unique requests. From a single 150' long slide gate at one of the nation's largest airports to a four thousand pound ornamental decorative slide gate at the governor's mansion to the swing gate in your backyard, we have you covered.
With our skilled group of certified welders, eight fabrication facilities and a team of Computer Aided Designers, your gate will be a masterpiece! The types and styles of gates are almost endless; limited only by your imagination. We can create any gate you could imagine with our welders' AWS D1.1 and AWS D1.2 certification. Whether you need a chain link gate for the sole purpose of getting the lawnmower in the back yard or a highly sophisticated custom ornamental gate to accent the beauty of your property and provide security for your loved ones, we have got you covered.
America's Gate Company has done every type of residential and commercial gate imaginable. Our gates can be found in the heart of the Yellowstone National Forest to the base of the Grand Canyon. We have secured our nation's nuclear power plants, military bases and some top secret high-security facilities that we can't even talk about. Rest assured that when you call us, you will immediately be put at ease, knowing you've come to the right place. We can help.
America's Gate Company – The only custom gate choice.
There are several reputable national gate manufacturers and lots of good small custom metals shops. American Fence Company is the only national custom metals gate manufacturer. America's Gate uses engineered tried and true structural principles and then incorporates your custom design. If you need to cover a sixty-foot-wide entrance but want the gate to reflect your facilities unique design concepts, you have come to the right place.
Our in-house engineering will design the structure of the gate and then build on this with your unique design. Imagine for a moment that your design includes large over scallop arches that represent a local bluff. Imagine large laser cut evergreen trees that are overlapped and standing off the frame to create a 3D effect. More laser cut evergreen trees are placed in front of the gate and on the gate posts. Behind the trees and attached to the gate frame is a big whitetail buck. Now, open your gate and watch what happens. That big buck appears to be trudging through the snow as the gate slides open and closed. Yes, we have done this design.
America's Slide Gate – The Cantilever Gate
The most widely specified and utilized engineered gate is the slide gate. The slide gate may refer to many different designs from a rolling gate with a V-groove bottom roller to an overhead slide gate. If you have snow and ice, the most widely used and specified gate is a cantilever slide gate. This system uses a series of stationery rollers to support the gate's tail or counterbalance section while the gate's opening remains cantilevered and extended through the opening.
The America's Slide Cantilever Gate is a cantilever sliding gate system designed for use in ornamental, commercial and industrial installations. With thousands of gates installed all over the United States, America's Gate sliding gate system has been rigorously tested and is suitable for use in all weather, continuous duty applications.
Performance Characteristics
Openings. America's Gate will design and manufacture gates that exceed openings greater than one hundred feet.
Height. Gate heights are endless.
Weight. Most chain link and ornamental slide gate weights are fully within the engineered design. It is the custom ornamental gates with unique sheet steel designs and heavy adornments that created a challenge. We engineer each gate's structural design and truss system relative to the added weight.
Infill. Every slide gate design is similar relative to supporting the gate through the opening. It is the infill that is unique. From chain link, vertical pickets, welded wire mesh and plasma cut sheet steel designs, we have you covered…and filled.
Engineering. Once the opening, height, infill and weight are selected, we engineer the design to support the cantilevered swing or slide gate. We believe gates should be "wheel free." This means the gate is supported and relies solely on its hinge points or rollers. No wheels are placed on the nose of the gate to support the weight.
Finish. All of our gates receive a pre-coated treatment ranging from chemical to media blasted. Our finish coating ranges from powder coating to HVLP painting process. All of our coating processes have a twenty-year limited warranty.
Material composition. Fabricated from aluminum alloy extrusions for light weight and durability
Quality Control Process
America's Gate promises to provide only the highest quality commercial and industrial cantilever slide and swing gates to our customers. Our fifty thousand square foot facility is equipped with mock installation sites. This means that large gates with structural challenges are field tested prior to delivery. We test, tighten and test so that the gate is level and true.
America's Gate has a quality control program that oversees our fabrication process. This includes the use of pre-qualified weld procedures in accordance with AWS D1.1 & D1.2. America's Gate also employees several G6 all position certified welders. America's Gate employs a pre and post check process where every dimension is pre checked against cut materials and post checked after fabrication.
When you want the finest gates the industry has to offer, look no further than America's Gate Company. A division of the American Fence Company, our specialty is gate construction and fabrication. With over 55 years of experience in the fence industry and serving the Midwest with 8 convenient locations, we have become one of the nation's most trusted resources for quality fence gates for everything from chain link construction gates to decorative residential gates to corporate gates and everything in between. Our custom fabrication shop can create any gate in any style, shape or size and with your choice of materials. From slide gates to swing gates, we have a selection of ready-made gates for sale in addition to our custom gate services. For ultimate in gate security, we also offer the exclusive Ultra Latch, by the American Fence Company which is the only non-removable, no-cut, anti-cut padlock, two-sided gate latch available.
We invite you to browse our website to download specs, CAD files and view our gallery for examples and more information about our gates. Contact us for any additional information you need or use our convenient online form to request a FREE quote for your next gate project.