America's Gate Company now offering Aria Louvers
"Genius is making complex ideas simple, not making simple ideas complex" – Albert Einstein. PalmSHIELD has struck genius with the Aria Horizontal Louvers! Einstein's quote was the inspiration behind this simplistic, field assembled architectural screening product. Designers, architects, and installers now have an easy decision to make when it comes to architectural screening. PalmSHIELD's Aria louvers are: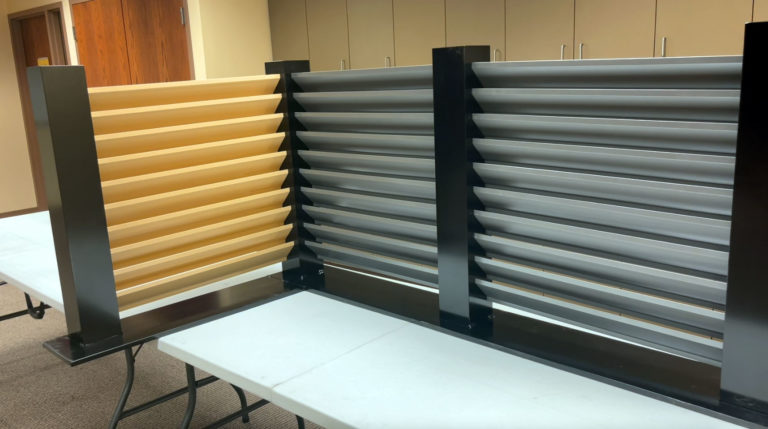 Straight forward. With only four components, PalmSHIELD has created the most simple louver solution available. No fasteners, screws or bolts necessary for installation.
Economic. The Aria horizontal louvers are the most affordable louvered architectural screening in the industry.
Smooth. Once the posts are set, there are no tools required! Slide in the louvers, push down the post spacers and squeeze on the cap all by hand. There is not a louvered mechanical equipment screen with an easier installation process.
Elegant. The Aria louver is a clean design. Just posts and louvers with no other visible fasteners, tabs, rivets, etc. This is architectural screening designed to be simple and clean.
Adaptable. This fully field assembled system features flexible post spacing and adjustable louvers for slops and other applications. A perfect mechanical screening solution for rooftop applications.
Upon arrival of the Aria louvers to the job site, you will have louvers, posts, post inserts and caps broken down. Nothing more. Installation is the fastest and easiest of any louvered screen product in the industry.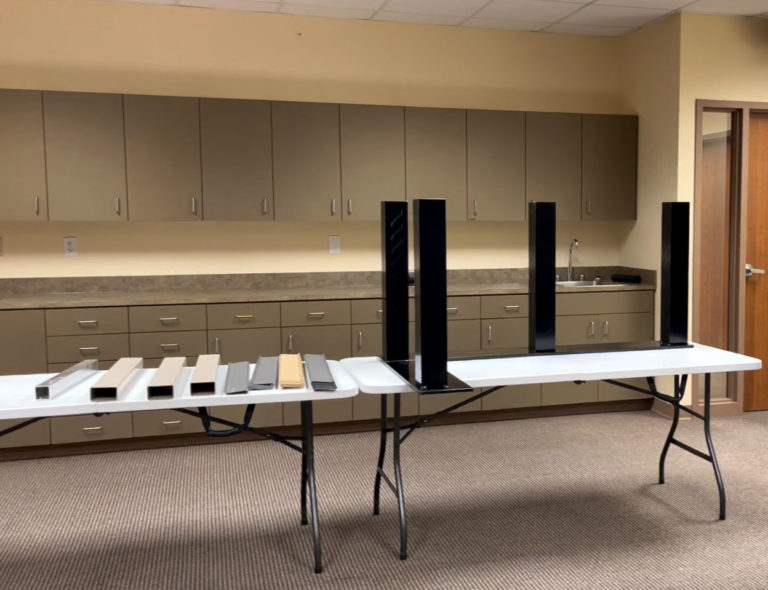 The louvered panels will arrive broken down and labeled per your PalmSHIELD shop drawings.
Set the provided routed posts per the layout drawing. The layout drawing provides unmatched details of installation.
Layout your packaged louvers per each bay. Each bay of louvers is packaged separately and labeled matching your layout drawing.
Louvers will slide easily into each slot on the posts. The posts are slotted with precise routes with consideration for installation. The louvers will slide perfectly into the slots with minimal gaps.
In less than 10 minutes, most panels can be fully assembled!
Once one panel is assembled, drop in the post spacer and squeeze on the post cap. The provided post spacers are engineered to drop easily down the hollow post keeping the louvers from sliding side to side.
Assemble the rest of the panels in the same way. Ten panels can be installed within an hour.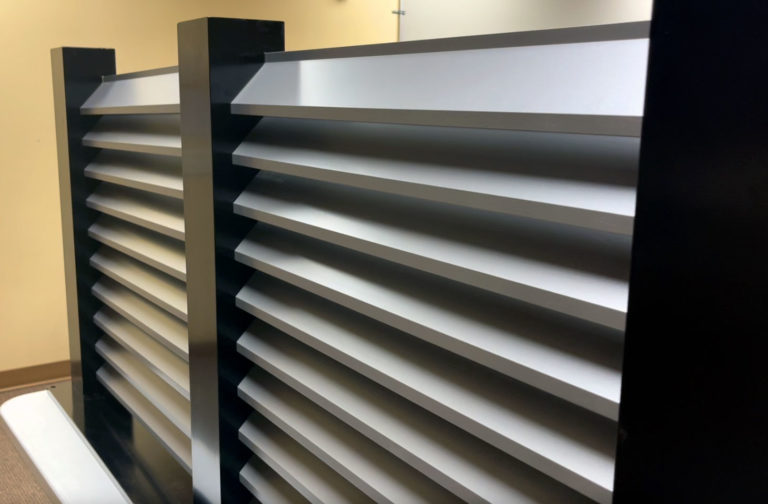 PalmSHIELD'S clever engineering removes the complex, resulting in true simplicity. The unique Aria design incorporates mirrored opposing slots angled a few degrees in opposite directions. Just enough force is applied to the louvers via this design to prevent rattling and movement of the louvers. The pre-fabricated post spacers drop down the inside of the hollow posts. The spacers prevent the louver from removal and keep the louver in place. Post spacers are simply dropped down in seconds.
Simplicity is about bringing order to the complex. Customers will not find a more simplistic version of a complex design than the Aria louvers from PalmSHIELD.