Gate Safety: Keeping Children Safe Around Gates
National Childhood Injury Prevention Week reminds us of the importance of keeping children safe and teaching them valuable safety skills. Many injuries suffered by children are often preventable by being aware of potential hazards and taking steps to address them—such as teaching proper gate safety.
Injury Risks Associated with Gates
Automatic or not, gates are capable of causing a number of injuries when not handled with proper care—the least of which include cuts and broken bones. However, automatic gates tend to pose higher injury risks. In 2018, the U.S. Consumer Product Safety Commission estimated that approximately 300 emergency room injuries happened as a result of automatic gates.
According to Safety Research & Strategies, Inc., prior to 2001, gates had minimal safety standards. This lack caused much higher rates of injuries and even fatalities, especially among children. Recently, new standards are set higher for safety, but injuries still can happen. However, by taking proper precautions, many of these injuries can be avoided.
How to Improve Gate Safety
So, how do you keep children in your community safe from gate-related injuries? Here are some useful tips to start.
Have your gate installed and serviced by professionals.
Professional gate installation ensures that your gate's mechanical operators and opening systems are set up properly and function as intended. This reduces costly equipment problems and improves the overall safety of the gate. Additionally, when you do need maintenance, a professional can identify and correct issues leading to equipment failure and injuries.
Make sure that your gate passes UL or ETL safety standards.
As mentioned above, gate safety standards have improved in the last few years. The two most prominent standards are UL and ETL, which set requirements regarding entrapment protection and obstructions. Entrapment causes many serious gate-related injuries. Gates tested under these standards require a minimum of two independent methods of entrapment protection such as contact sensors and control devices (Safety Research & Strategies, Inc. 2016).
At America's Gate Company, we design our products to comply with the latest UL codes and reduce injury risks. This includes using enclosed-track systems for our cantilever slide gates, shrinking air space between ornamental pickets, and extending fabric or pickets through the tail of the gate. All of these measures help prevent people from sticking their limbs into a moving gate.
Incorporate custom hardware designed for gate safety.
A standard, ready-made gate, while convenient, may not protect against injury as effectively as a gate incorporating specialized hardware. Using custom features such as self-closing or hidden hinges, keyable latches and locks, and additional safety sensors allows you to prioritize safety.
Identify the danger zones and warn children to stay away from them.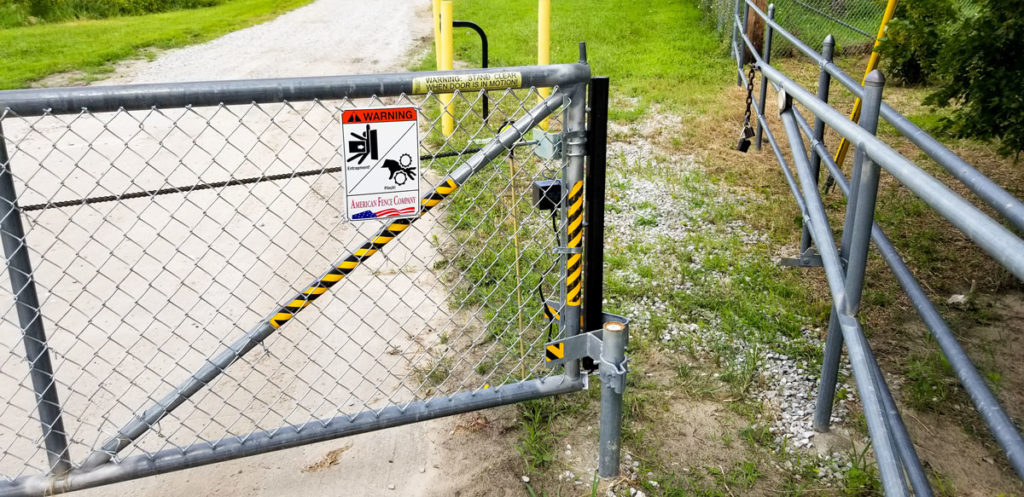 Knowing what to look for and what to stay away from is an important part of gate safety. While gates look fun and inviting to children, it is of utmost importance to warn them never to play on or around a gate. Keep your body and theirs away from any openings on gates. These are entrapment zones and pinch points that can cause serious injuries or even death (OnSafety, Consumer Product Safety Commission, 2018).
Have a separate pedestrian entrance.
For businesses and properties with gate systems intended for automobile traffic, it is critical to have a pedestrian entrance separate from the vehicle entrance. The sensors and equipment for the vehicle entrance are not intended to register people. These safety measures may not pick up on a person in the path of a moving gate—resulting in serious injury and liability.
Be a good role model.
Finally, one of the best ways you can keep your child or children in your community safe is by modeling proper gate safety yourself. Children tend to imitate adults in their lives. If you practice safety around gates, they likely will do the same.
For more information on our gate safety products and services, reach out to us via our contact form or email us at info@americasgatecompany.com.