PalmSHIELD helps Mission Dispensary make history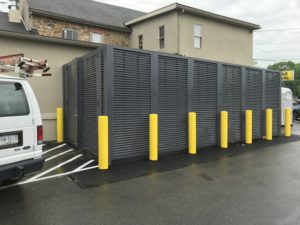 Mission Dispensary made history in Allentown, Pennsylvania by becoming the city's very first medical marijuana facility—and they chose PalmSHIELD to be apart of it. ProMax Fence Systems installed PalmSHIELD's horizontal louver fence system at the dispensary.  The mechanical equipment screening faces the front of the building and complements its unique architecture and perfectly pairs with the building's color accents.
ProMax Fence Systems is located in Reading, Pennsylvania and has become experts in installing the PalmSHIELD horizontal louvered fence system. They have installed PalmSHIELD product on other occasions and after seeing Mission Dispensary's finished installation, it is apparent that ProMax Fence Systems are masters of their craft. All the seams of this system are tight and it continues to stay perfectly level as the ground slopes away. Congratulations to ProMax Fence Systems for doing a great job.
This PalmSHIELD project used an exclusive internal locking device and Gorilla hinges. There is a large double swing gate at the rear of the structure and the whole thing stands 10-feet-tall. This gate is quite large, and massive gates require hearty hinges. A butterfly design is utilized in the PalmSHIELD Gorilla hinges along with half inch mounting plates with all the bolt holes tapped and pre-drilled.
PalmSHIELD is America's leader in walls, mechanical equipment screening and enclosures with their unique and fully-framed panel designs, along with the industry's largest louver size. PalmSHIELD is also proud to offer self-standing and rooftop system solutions. Every PalmSHIELD screen project is a custom project.
To learn more about what PalmSHIELD can do for you or to look at some of their specifications and CAD drawings for your own project, visit PalmSHIELD today.