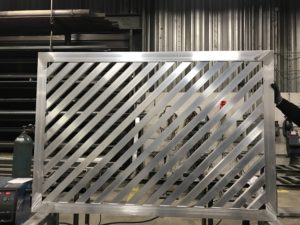 Have you ever needed industrial fencing, but you were looking for a design that was appropriate for a more modern and upscale lifestyle? PalmSHIELD's new Casino diagonal louver panels provide a striking appeal for any polished property. When designers and architects are looking for an architectural structure that may be a focal point, the Casino design provides them a unique design and visual appeal. It is perfect for enclosing trendy properties like outdoor cafés and patios. These panels provide great shade coverage that also form some compelling shadows. The Casino design is the ideal piece for trash enclosures and mechanical equipment when more traditional designs don't provide enough gusto.
Its diagonal louvers (or slats) form a pattern throughout the system that are specially made to get noticed. Panels can be placed parallel to one another or in an attractive, mirrored pattern. If you wanted you could even mix the two styles. Pattern and placement are completely up to your preference. The infill can be PalmSHIELD's traditional slanted louvers that don't allow any light, but still maintain an attractive contemporary design. If you are looking to simply break things up and allow a little light to come through, you may want to consider their smaller diagonal slats.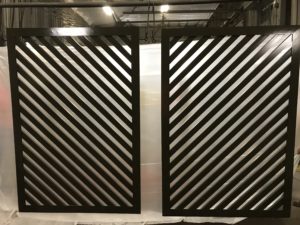 All of the Casino panels use PalmSHIELD's engineered and proven fully-framed design. PalmSHIELD uses a substantiated fully welded frame to support their panel's infill that is placed in-between 4 inch square posts. All of PalmSHIELD's posts and panels are shop assembled and pre-drilled to assure accurate alignment.
After fabrication and assembly, all materials are carefully sweep blasted and powder coated. The most vital part to any coating system is in the preparation of materials. Sweep blasting removes any remaining debris and opens the aluminum and steel up for adhesion. In addition, custom colors are also available for Casino diagonal louvers if desired. PalmSHIELD uses polyester powder coating in accordance with material hardness ASTM 3363 2H.
PalmSHIELD is a remarkable choice for any architectural and mechanical enclosure, rooftop enclosure, equipment screening or trash enclosure. Visit PalmSHIELD website today to learn more about PalmSHIELD's products or to get a free quote for your next project.